1
« Last post by renonevada on February 16, 2018, 01:21:13 AM »
PLAYBILL
SYNOPSIS
Rodney orders Reno to get himself thrown into Rikers Island.
CAST OF CHARACTERS
JOSEPH GILGUN as RENO NEVADA
FATU as UNNAMED SAMOAN
CARA DELEVINGNE as TRIX
LUKE WORRALL as WRAITH
ROOTS MANUVA as RODNEY PRENTICE
FRANCIS FORD COPPOLA as FRANCIS FORD CUPPOLA
Marquis Irving was holding a clipboard and reading over the attached file through his thick glasses. The nurse flipped through a few pages before setting it aside and reaching for a box of exam gloves. He was in his late forties and pudgy, with a bushy mustache and oily skin.

"Now for the fun part." He pulled a latex glove over his right hand and let the rubber SNAP against his wrist for effect.

He said, "Pull down your shorts and squat."

Reno stood there in nothing but his boxers with his bare feet inside a red rectangle painted on the cold floor. His face was red, the skin irritated, and eyes bloodshot from a recent exposure to pepper spray.

"Wonderful bedside manner," he said, squinting, as he pushed the waistband of his underwear down past his buttocks and let them fall around his ankles.

Another inhabitant of the bright white exam room leaned against the wall a few feet in front of Reno. He was a young man, mid-twenties, with a military-style haircut, thin mustache, and a serious look. The New York Department of Corrections uniform was a bit too tight, probably on purpose, to accentuate his show muscles.

The corrections officer smiled looking at Reno and quipped, "Not bad. You'll be the belle of the ball."

Reno bent his knees. "Now that we can all see I'm not hiding anything nefarious, how bout we call this a day? I can't wait to meet my new roommate."

He heard Irving say from behind, "I think we need to do a rectal. Just to be sure he's not smuggling in contraband."

The officer nodded, "Yeah. I think we might have a Han Solo here."

Reno lifted his eyes. "A what?" In the corner of his eye, Irving appeared long enough to grab a tube of lubricant from a nearby tray table. Reno said, "Come on, fellas. You don't wanna do this. They served us Huevos Rancheros at the station."

Irving said, "Slight pressure."

As Reno felt what he hoped was just a finger press inside of him, he suddenly found himself questioning every decision he had ever made in life.

The corrections officer bent down, looked Reno in the eye, and said, "Welcome to Rikers."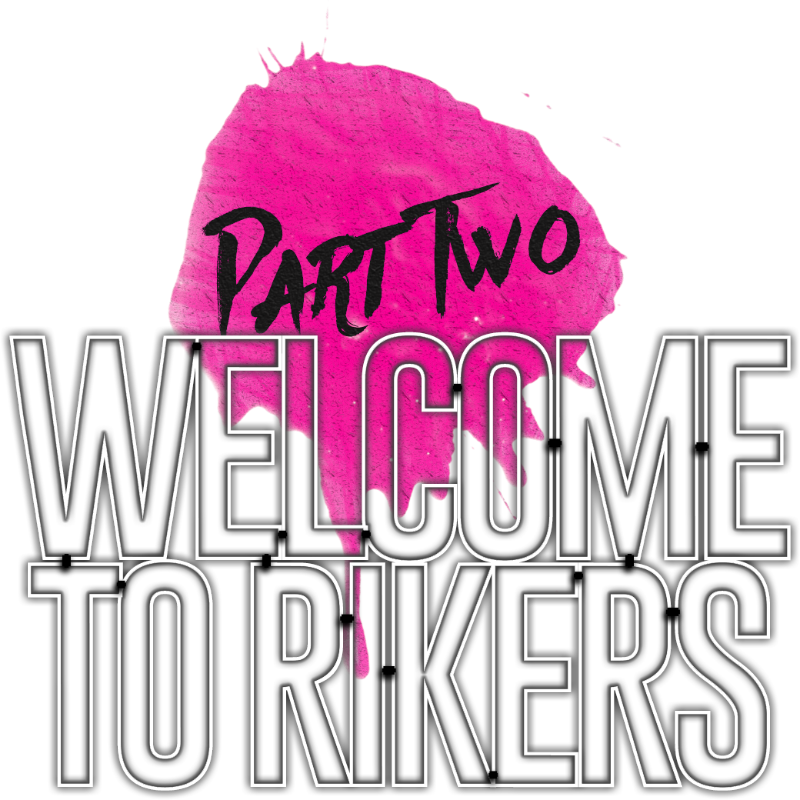 LAST NIGHT—Play was pressed on an iPod classic. The Doors' Back Door Man started up. Loud and awesome, the music rocketed up the aux cable, to the buds in Reno Nevada's ears.

He tucked the iPod in his pocket and lit a cigarette outfront of McSorley's Old Ale House. He came to the East Village pub for lunch. After a sandwich and a few brews, he decided to stay for dinner. By late afternoon, the transition from beer to hard liquor was complete. Now the sun was long gone and the night was upon the NYC.

He heading west on 7th toward his hotel. Despite his level of inebriation, there was no stumble in his step. His basic motor skills were in check. His vision sharp, his balance steady. When he swallowed there was no fear of vomit suddenly roiling up from the inferno of his alcohol-twisted guts. He was, after all, a professional drunkard, no longer burdened by the difficulties faced by amateurs. He was made from sterner stuff.

He smoked and walked, the street lights reflecting off the gas station sunglasses on his face, and lost himself in the music. Nodding his head, snapping his fingers, mouthing the words, he was enslaved to the rhythm. A girl walked past him on her phone, unphased. This was New York.

He was so immersed in the track, he didn't notice the black car skid quickly to a stop beside him or the driver that came rushing out. He was a large Samoan man with hands like catcher's mitts. He grabbed Reno by the arm and frog-marched him to the vehicle.

Reno squawked, "Hey, man!"

The driver said, "Into the car, coppertop."

The back door flung open and Reno was muscled in. He landed awkwardly in the seat and the door slammed shut. Turned around in the front passenger seat was a woman with spiky blonde hair and cold blue eyes. In her hands was a pistol aimed at his forehead.

The car shifted on its axel as the driver climbed into the front seat. The door was shut and the transmission put into gear. The engine revved and the car launched forward down the road at speed.

Next to Reno was an albino fella with a gaunt face and pursed lips like he just ate a piece of sour candy. His white hair was styled in messy spikes like some kind of anime character and he wore a suit fashioned out of glossy PVC leather.

Reno's eyes circled back round the vehicle. The Samoan had the Columbine look down and the girl with the gun was decked out in white leather duds.

Reno said to them, "Holy shit, are you guys from the future?"

"Quiet," the Albino said with a sharp tongue.

Reno looked up the gun barrel to the blonde behind it. "What's with the hand cannon? You got me." He threw his hands up sarcastically. "Where are you taking me?"

"No more questions," she said as her thumb cocked the hammer.

"Ohh," Reno said real big. "Dramatic gun cock. Nice."

She smirked and said, "Wraith?"

The Albino answered, "Yes, Trix?"

"Shut him up."

He smiled. "Gladly." His hand reached inside his jacket and withdrew a stun gun.

Reno said, "Now wait a min—" His words were cut off when the gun was jammed into his side. Lightning arced through his body, singed his nerves, and made his muscles convulse. Consciousness slipped away as his brain shut down and the world dissolved to black.

He woke up with a splitting headache, unaware of how much time had passed or where he was. His hands gripped the arm rests of a ratty chair and his eyes opened. He had been transported from the speeding car to a decayed hotel room, abandoned to rot, with peeling walls and dirty, musty-smelling furniture.

"This feels really familiar," he said, but immediately winced. Thinking brought back an aftershock of electricity.

"The Matrix," a familiar voice said.

Reno looked up. Sitting across from him in a burgundy leather chair was Rodney. He was full-on Lawrence Fishburne with a long black coat and smooth, shaved head. His eyes were invisible behind circular mirrored glasses.

Rodney added with a sharpened smile, "1999."

Reno tried to get up, but the Samoan was standing next to the chair. The big mitt came down on Reno's shoulder and shoved him back down. His temper flared but the pounding hammers in his skull beat him into submission.

With violence currently out of the question, he grit his teeth and said, "What the fuck is your people's obsession with movies?"

Rodney put his hands together. "People say art imitates life. We believe the opposite is much more true."

"Clearly," Reno said. "It's like you guys just enjoy ripping off shitty action movies. What's a matter, no good ideas of your own?"

"We have ideas," Rodney said, somewhat annoyed.

Reno pointed. "Name one."

"How's this," he said with an air of confidence. "You are going to get yourself arrested and thrown in prison."

Reno laughed. "That's like twenty movies."

Rodney said, "No it isn't."

"Gee, let me think." With an eye roll, Reno started counting them off. "Face/Off, the Joker in the Dark Knight, and let's not forget about Leo in the faaaaakin DEPARTED—"

Rodney commanded Reno's silence when he revealed the remote device in his hand. He held it aloft as a smile, razor thin, curled the corner of his lips.

He said, "The difference, Mr. Nevada, is that none of those characters in those movies had bombs planted next to their carotid artery."

Reno reached to the side of his neck. He could feel the warmth generated by the activated implant. His eyes widened briefly, before narrowing into hateful slits.

The leather creaked as Rodney leaned back. The device was disarmed and returned to his pocket. "You are going to get yourself arrested. I don't care how."

Reno had to ask. "Why?"

"Francis," Rodney started. "He's in Rikers. We believe certain forces are going to make an attempt on his life. He needs a bodyguard."

"For fucks sake." Reno's face went into his hand. "It doesn't work that way. Trust me. I get taken to the local precinct, I stay there until they kick me. I'd have to do something severe enough to get moved to Rikers…and even then, it could take a week for me to get sent there."

"We have people in place," Rodney assured him. "If you are arrested, you will be in Rikers in a matter of hours."

"Of course you do," Reno said with a sigh.

"Cheer up, Mr. Nevada," Rodney said with another smile that could cut glass. "If you do your job and protect Francis, we will see to it that whatever charges you incur will not be prosecuted. You will be released and your record expunged."

"Forgive me if I don't exactly trust you."

Rodney said, "You are too valuable to leave locked up. We have plans for you, Mr. Nevada. Big plans."

Reno made a face. "Great. Just great. How much time do I have?"

Rodney extended his left arm, exposing a thousand-dollar watch. He looked at the timepiece and, after a moment of silent contemplation, gave the answer.

"Ten minutes."

Reno looked at him sideways. "You're kidding."

"Nine minutes and fifty-six seconds. Fifty-five. Fifty-four." Rodney's eyes lifted from the watch to Reno. "I don't need to explain what happens if time runs out."

Reno burst out of the chair and exited the room. He darted down the hallway, passing the Wraith and Trix. Their laughs chased him into the stairwell and down the four flights of rickety stairs. At the bottom, he shouldered his way through an emergency exit and stumbled out onto the sidewalk.

His hands went to his knees and he doubled over to catch his breath. His eyes darted around, trying to get his bearings. He saw the Statue of Liberty on a parked car's license plate. He was still in the city, thankfully.

He started running. Adrenaline churned through his system, burning through the alcohol in his blood like an all-consuming flashfire. At the end of the block, he came upon a small group of friends. He grabbed one of them, a twenty-something white kid with a backwards Yankee cap, by the shoulders and shook him.

"WHERE'S THE NEAREST FUCKING DONUT SHOP?"

They didn't argue. They didn't question. Maybe it was the sweat pouring off Reno's face, or the mad stare in his eyes. He must have looked like a drug-fueled maniac on the prowl for sugary snacks to tweak his buzz.

"That way," one of the other kids said, pointing up the block. "There's a Dunkin' Donuts. Three blocks."

"PERFECT," Reno said and took off running, all knees and elbows, in the pointed direction. Crosswalk signs were ignored as he burned through intersections. He made good time, but by his estimation he probably only had a minute or two left when he arrived at Dunkin'.

Sure enough, there was a cop car parked out front and he could see two unis inside at a table. He galloped across the street and jumped onto the hood of the cop car. The alarm sounded as he got two his feet and climbed on top of the roof. The metal dented and buckled under his weight as he stepped over the lightbar.

The cops came running out of the shop.

"Get the fuck down," one of the officers ordered. Both were reaching for their firearms.

Reno jumped off to the sidewalk and held his hands up. "You know, I heard the NYPD was full of pussies afraid to fight. Boston cops don't hesitate to throw down."

Their hands eased off their guns. "Look at him," the cop on the left said. "He must be high." His partner reached for a pocket on his belt and unsnapped it. He removed his pepper spray and said, "Fuck this asshole."

Moments later, Reno laid in the back of the cruiser, hands zip-tied behind his back, as it rushed through the streets with lights spinning and siren howling. His eyes were swollen and watery. His nose ran and snot was smeared across his face. His entire face was on fire and it hurt to breathe.

He mumbled, "Tell Rodney I made it."
A different corrections officer escorted Reno down a long passageway with numerous iron doors on either side, all of which were open. Most of them were empty, but a few inmates stood at the bars watching the two men walk past, or were sitting on their beds reading.

Reno said, "Where's everyone?"

"The Yard," the officer said. He was a short latino with thick, black hair and a heavy brow. "Or working. Some also go to school during the day. Here's you. Number 52." He unlatched Reno's cuffs and removed them. "Rodney says to behave, do your job, and you'll be out of here in no time."

Reno rubbed his wrists and said, "You work for Rodney?" When he turned back, he saw his iPod wrapped in the wire of the earbuds and a charger in the officer's hand.

"Take it," he said. "But don't let the other C.O.'s catch you with this shit or it's your ass."

As the officer walked away, Reno quickly stuffed the iPod into his pockets. "Jesus," he muttered to himself. These assholes really do have connections.

Reno walked into his cell. The ten-by-ten foot enclosure was all cold concrete and stainless steel fixtures. To his left was a squat toilet surmounted by a sink. Above the fixture and bolted into the wall was a mirror made of polished metal. To his right, a set of concrete slabs extended from the wall, one above the other, with thin mattresses covering them. The top bunk appeared well used, with a few personal effects decorating a small shelf built into the adjoining wall.

On the bottom bunk, the mattress was freshly made with a thin blanket and a foam pillow. There was a toothbrush and paste, a stick of deodorant, a Gideons' bible, and a pamphlet of prison rules and guidelines.

"Don't worry, kid," he said. "It's only temporary, they said." Sure it is, he then thought sarcastically. A sickening feeling came over him. He walked over to his reflection in the mirror. Anger flashed in his iron eyes. He pounded the image with a closed fist, leaving several dents in the finish.

"Hey," someone shouted behind him.

Reno swung around.

There, leaning against the bars, was Francis Ford Cuppola—gut stretching out his orange jumpsuit, jowls covered in a gray beard, hair hidden beneath a black do rag.

"That's my mirror—" Francis stopped and adjusted his glasses. "—wait a minute. You look familiar. Are you from D Block? I told that foreign chicky-chow mein devil that he'd have his Jon Snow Pop! Figure in a week. No sooner!"

Reno stepped over to Francis and jabbed a finger in his chest. "You fucking know who I am. You're the reason I'm in here."

"Such anger," Francis yelped. "Such violence! You must be from A Block—"

Reno interrupted. "I'm Reno Nevada. I'm here to protect you. Rodney sent me."

"Rodney," Francis said wide-eyed. He snapped his fingers. "You're our guy in Fight 2 Win. The inside man, as it were. Why would he send you? I don't need protection. I'm the rudest streetwise professor in this joint! Gangsta number one!"

"I don't understand a word you're saying."

"I'm a man who knows how to get things," Francis explained.

"Han Solo," Reno said quietly and took a step back.

With a head shake, Francis said, "More like Red from Shawshank Redemption. Anyway, it appears we are roommates." He circled the cell with his eyes, then held out his hands. "Nice digs, eh?"

"Nice digs? It's a fucking prison cell."

"Could be worse," Francis said as he strolled in. "Being my roommate has its privileges. If there's anything you need, you just let me know. I can get most anything."

Reno plopped down on the bottom bunk. He ran a hand through his hair and scratched the back of his head. "Rodney made me get thrown in prison because he said someone was going to kill you. You're telling me I'm in here for no fucking reason?"

"Listen, bubale," Francis said as he unzipped the front of his jumper. "There's nothing to worry about. You're in good hands in here. I'll make sure the bull queers leave you alone. Unless of course you're into that sort of thing."

Reno lifted his head. "No, that's okay—what the fuck are you doing?" When his eyes lifted, he saw Francis sitting on the toilet with his jumpsuit and underwear around his ankles.

"I gotta go," Francis said and held out his hand. "Could you grab me one of my magazines off my bed? Let's go with Ebony. I think this is going to be a rough one."

Reno stared at him.

Francis stared back, waiting.

Reno raised up like a petulant child and faced the top bunk. He fished the right magazine out of a pile of them and handed it off to Francis. Then he sat back down on the bed, swung his legs out, and laid down.

Francis leafed through the magazine and said, "Thanks. I think I might be dehydrated. I need some electrolytes."

Reno unwound the earbuds from his iPod and slipped one in each ear. He scrolled down the list of songs and hit play on Riot in Cellblock Number Nine by the Blues Brothers. The classic blues riff kicked in. The vocals got busy. Reno closed his eyes and lost himself in the wails of saxophones and horns.